Dehydrated Salted Green Pepper
De-hydrated salted Green Pepper is a product developed by Pepper India Corporation, it is a 100% substitute for Green Pepper In Brine and is much more convenient as it is easier for transportation and storing as it does not involve any Brine Solution. It is a product which can be used instead of Pepper In Brine as it contains both Pepper and Salt in the same proportion and at the same time maintains the natural green colour .
Special Quality Turmeric Whole / Powder (Low bacteria)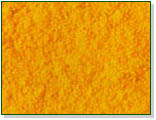 This top class turmeric powder is washed, dried, powdered and sieved in 30 mesh under controlled conditions, after removing stones and foreign particles. It is packed in polylined double woven bags. 25 kg. Net weight.
Special Quality Dry Ginger Whole / Powder
Unbleached Dry Ginger with high volatile oil content of about 2%, is washed and dried under controlled condition, after removing all stones and other foreign particles before drying. Packed in 50 kg net in double lined gunny bags.
Garcinia Cambogia Extract
Hydroxycitric Acid (HCA)
Hydroxycitric Acid is the major organic acid from the dried bark of Garcinia Cambogia of the family of Guttiferae (an exotic middle-sized tree growing in India and south east Asia). The acid and its salts have been extensively tested since the mid 1970s. The compounds have been shown to be competitive inhibitors of ATP: citrate lyase and reduces the conversion of carbohydrates to fat and cholesterol. The extract itself has been traditionally used for centuries in culinary practices in many parts of India. Since this acid and its derivatives suppresses the appetite, increases the production of glycogen and decreasees the synthesis of fats, they are used in diets and weight loss programs.
Fresh Garlic in Brine (Allium Sativum.L)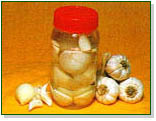 Fresh Garlic in Brine Garlic (Allium Sativum.L) is widely used as a spice and seasoning in food. It is also used for some pharmaceutical applications.

Large size garlic collected from growers is graded and the cloves separated manually by Removing the outer cellulosic skin. It is then put in brine water of proper strength and packed.

Packing - 20 to 25 Kg (Net drained wt) in HDPE food grade jerry cans.